Red Sox, Valentine Struggle in Opening Month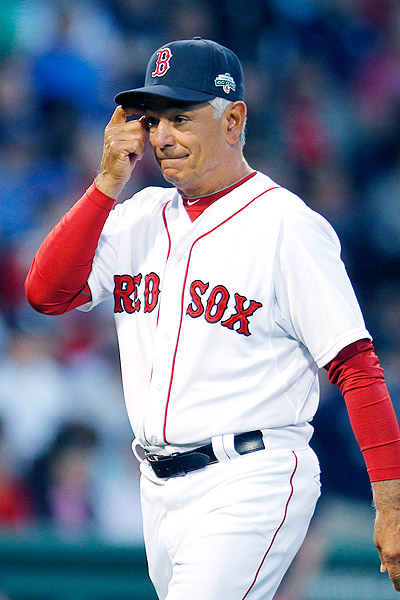 After coming off the biggest collapse in baseball history the Red Sox were coming into the season with big hopes and expectations. This has hardly been this case so far with their record just at 10-11 even though they have the third highest payroll in the MLB.
The Red Sox have struggled in just about everything so far, especially closing out games, since their projected closer Andrew Bailey got hurt in Spring Training.  The pitching has been mediocre to say the least having a 7.04 ERA through the first 15 games and the bullpen is just plain embarrassing at some points.  The bullpen struggles were highlighted when they blew a 9-0 lead in which the bullpen allowed 14 runs in just three innings to lose 15-9 to the Yankees.
Since the start of September 1, 2011 the Red Sox's record has only been 11-30 which leads to the question, what is wrong with the Red Sox?  With every sports team the blame goes to the coach who in this case is Bobby Valentine.  The Valentine era has been everything but pretty and has been a questionable move to hire him since day one.  Valentine isn't exactly the most popular guy in Boston right now considering he has already been booed in the first month and is getting questioned by star players such as Kevin Youkillis.  He has struggled to prove that he was the right person for the job with one of the most talented teams in the league currently sitting at the bottom of the AL East.
Although everything is going bad for the Sox now they still have potentail to be the best team in the league.  The return of Carl Crawford in the middle of the season will help boost an already fragile outfield who already lost Jacoby Ellsbury for 6weeks earlier in the season due to a shoulder injury.  Also, the return of closer Andrew Bailey, who is projected to come back sometime in the middle of the season, will help a dismal bullpen.
Boston's struggles are a fixable one and they have the talent to overcome it but the question is, do they really want it?  They reshaped the whole front office this off season and got a whole new look but yet they struggled out of the gate.  The Sox have what it takes to be a contender but so far have lacked the heart and pride to be a true team.  If the Red Sox put everything together they could make a run deep in October but they have to start playing as a true team to compete in a very competitive American League.