Worst of 2011: Television
10. Terra Nova
As Earth's population dwindles and air quality becomes inhospitable, the human and animal population is threatened with extinction as the world becomes a deserted wasteland. Luckily, scientists have found a rift in space that would allow people to time travel over 85 million years to the past! Mega cool!!! This Mesozoic melodrama follows the Shannon family, who attempt to escape from the Population Police, and travel through the rift in time, back to the age of dinosaurs. Thank the holy lord, that the adventures in this parallel time line have no effect, whatsoever, on the future. Who would have thought that a group of humans in 85,000,000 B.C. (you know, before the human race existed) would have survived and been ineffective at changing history? But wait! A group of bad guys called "The Sixers" terrorize the Shannons (as if dinosaurs weren't enough…) as they struggle to survive. The creators attempt to add some realism to the show, and have the stereotypical teenage drug and drinking storyline. These kids must be geniuses because they skillfully create Moonshine from prehistoric fruits and nuts. Wow. "Terra Nova" was a train-wreck on-screen. Despite its high quality special effects, Terra Nova was unable to hold its viewers for an entire season, comprised of 22 episodes, with simply its CGI effects. Its ridiculousness makes it seem almost impossible that the show was ever aired, but by some director's miracle, "Terra Nova" slipped past FOX's radar of idiocracy.
9. Teen Wolf
Watch out Jacob Black, there's a new teen wolf in town. But let's leave it to the pros, kiddos; Michael J. Fox already did this in 1985. "Teen Wolf", like every other teenage/young adult show, opens with a pilot of a beautiful school campus, ties in a less beautiful teenage boy– in this case a lacrosse outcast. It ends with a hideous werewolf and a murderous hunter. Scott McCall (Tyler Posey) plays the protagonist, an average Joe, who wanders through the forest and is attacked by a dog. In a Peter Parker-like researching and frantic state, Scott researches the sudden changes happening to him and concludes that he is a werewolf. While the acting was not horrible, the romance with Allison Argent (Crystal Reed) was. And, while some viewers may have liked the suspense and thrills, they only masked a predictable plot and bad characterization. MTV did not fail to once again broadcast a show with no personality and prove the station to be worthless and unsophisticated entertainment.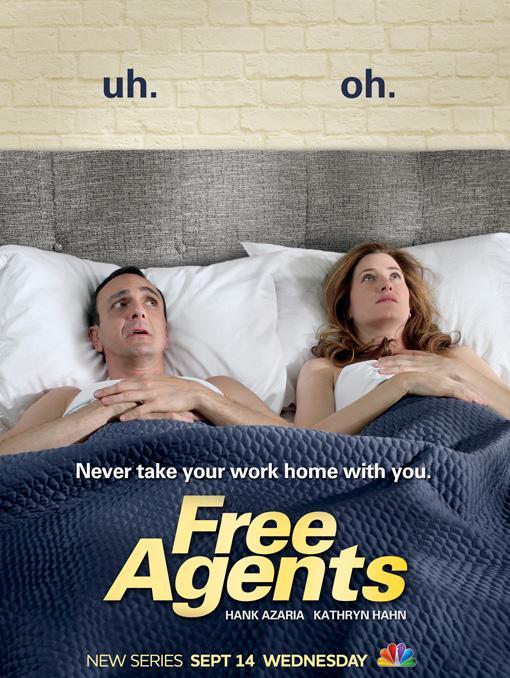 8. Free Agents
There's nothing more heartbreaking than seeing talented actors perform in a catastrophic television series. "Free Agents" does exactly this. Alex (Hank Azaria) and Helen (Kathryn Hahn) have both endured rough patches in their romantic lives. In fact, Alex is newly divorced and Helen's fiancé recently died, which brings the two together for an intimate night of grieving and comfort. The show was similar to "The Office", but it's wasn't actually funny, and in fact consisted mostly of the two leads crying or getting drunk. So let's rephrase: "Free Agents" was nothing like "The Office" except for its setting, and that it was based off of a British sitcom with the same name. There was no real chemistry between any of the characters, nor were they believable. Thankfully, "Free Agents" was canceled in early October, saving NBC viewers from a vapid lullaby.
7. Man Up!
"Man Up!" featured three white-collared, middle aged, middle class men struggling to realize that modern day life isn't always fair. The show did not fail to make stupid, uneducated jokes about women, and specifically their feminine sides. It seems that the  main characters, Will, Kenny, and Craig, have substantial maturity problems– which is to say that their maturity is nonexistent. The guys think that beating each other in a video game justifies the victor, Will, yelling out, "I'm the man! I'm the man!". Will's wife shouts back offscreen (and probably from the kitchen, as it seems the writers think this junior high joke is still funny) to quiet down, and firmly takes the role of the annoying, nagging wife. "Man Up!" (and do not forget the exclamation point) hammered out mens' insecurities and bashed women along the way.
6. I Hate My Teenage Daughter
It wasn't hard to hate the teenage daughters (or any other character, for that matter) on "I Hate My Teenage Daughter". What sounded like a reality show was unfortunately a television series on FOX, starring two single mothers (Jaime Pressly and Katie Finneran) as best friends who raised their daughters as spoiled, ungrateful brats. As unpopular, loser girls in high school, moms Annie and Nikki feel compelled to raise their children differently so they can avoid a bad social scene and be the bubbly popular girls Annie and Nikki always dreamt of being. The two 14-year-old daughters are selfish, rude, and texting-obsessed, and make it clearly obvious that they would do good from a slap in the face from Dr. Phil. The girls are annoyingly undisciplined and are surely soon to end up on the Maury Povich show by mid-season two. There was nothing funny about the 'comedy' "I Hate My Teenage Daughter", which left viewers saying "I Hate New Comedic Television".
5. Last Man Standing
Here we go again. Another comedy sitcom about a man feeling insecure about his masculinity. Tim Allen plays Mike Baxter, who feels overwhelmed by his household full of females. His wife, Vanessa (Nancy Travis), and three kids (a 22-year old single mom, a spoiled teenage brat, and a tomboy) give Mike hell as he works at an outdoor sporting store. However, it's impossible to truly care about Mike because of how unlikeable his character is, and nobody could really feel much sympathy for this testosterone deprived father. ABC's new show "Last Man Standing" isn't much about anything, and is more or less an unhappy guy complaining about his family the whole time. Not worth much for television broadcasting there.
4. How To Be A Gentleman
There's a common theme going around for new comedy series on television: They're not funny. Not only does "How To Be A Gentleman" lack humor, but there is also no plot. Or characterization. Or any memorable performances. All in all, the show is bad. It stars David Hornsby as Andrew, a common guy who walks into the gym one day and (surprise!) meets Bert (Kevin Dillon), an old bully from back in high school. Because Andrew is so sweet and forgiving, he accepts Bert as his life-coach and learns how to be a true man (again, what is up with this lack of masculinity on television?!). Bert and Andrew recreate "The Odd Couple" as this unlikely duo teach each other lessons of life and manhood. There's nothing great about the show except for soporific plots that make good bedtime stories.
3. H8R
Yes, that is seriously what The CW named their new reality TV show until it was canceled four episodes later. "H8R" was hosted by Mario Lopez, who brought celebrities onstage after being harshly judged by internet users on message boards and spitting venom on famous actors and actresses. The first episode, not-surprisingly, featured Snooki, who took it a little bit too personally that she was being 'bullied' by an anonymous person online. Other guests included Kim Kardashian, WWE wrester The Miz, a model, and a dancer from "Dancing with the Stars", and several other celebrities that nobody cares about. "H8R" was generally stupid and uninteresting, and to put it bluntly, viewers simply 'H8-ed' it.
2. Charlie's Angels
Three former bad-girls become superheroes that catch criminals and do the police and FBI's dirty work in this new remake. Honestly, "Charlie's Angels" was just ridiculous. The creators should have left the 1970s version in the vault, instead of breaking it out for review. There isn't much to say about "Charlie's Angels" except that it includes attractive women and a pretty set, but aside from that, the show didn't hold much of anything, including a plot and a bad rating.
1. Allen Gregory
"Allen Gregory," a new animated series, is probably the most repulsive show on television right now. Seven-year-old genius attends elementary school after being home-schooled for his whole life. Allen thinks he's the center of attention at his new school, and nobody finds it wrong that this young boy fantasizes about his saggy, old principal. "Allen Gregory" is crude and slightly controversial due to Allen's homosexual stepfather (who later openly says he isn't gay?). Before its airing, it seemed that this new show might be comparable to "South Park"'s raunchy and light humor, but unfortunately, "Allen Gregory" takes a whole new approach to humor as Allen frequently makes fun of his classmates and shows a general disrespect for human beings. "Allen Gregory" is definitely not worth turning on the TV for, and it would indeed be a mistake to do so.